Appalachian Trail Conservancy to Celebrate 2nd Annual Family Hiking Day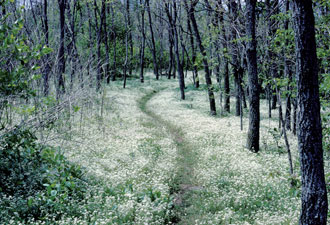 Built over the course of 15 years, the Appalachian Trail was completed on Aug. 14, 1937. This year marks the 75th anniversary of the completion of the trail, and what better way to celebrate than joining the Appalachian Trail Conservancy for the 2nd Annual Family Hiking Day!
Stretching from Maine to Georgia, the Appalachian Trail measures approximately 2,180 miles in length. On September 29, the ATC will be hosting volunteer-led hikes, many of which are family friendly, as well as trail-related games and activities to promote their 2nd annual Family Hiking Day.
The ATC developed Family Hiking Day in order to introduce families to the Appalachian Trail, as well as promote physical exercise and encourage families to spend time outdoors. With hikes ranging from easy to strenuous, there is something for every level of outdoors enthusiast.
Seven guided hikes have been arranged for participants; Woody Gap to Dockery Lake in Suches, Georgia, various hikes from Standing Ground Indian Campground in Frankin, North Carolina, Firescald Ridge in Hot Springs, North Carolina, Clingman's Dome to Silers Bald in Gatlinburg, Tennessee, Cornelius Creek in Bedford, Virginia, Bulls Bridge to Ten Mile Hill in Kent, Connecticut, and Little Wilson Falls in Elliottsville, Maine. For complete details on each of the guided hikes, including difficultly level, mileage, and registration information, visit the Guided Hike page on the ATC's website.

If your state is not holding a guided hike, the ATC has plenty of trail recommendations for all skill levels to insure that you and your family have a safe and enjoyable time on the Appalachian Trail.
Happy Hiking!
Image: A portion of the Appalachian Trail. Source: National Park Service.
Image: A portion of the Appalachian Trail. Source: National Park Service