Goats are the New Landscapers on Staten Island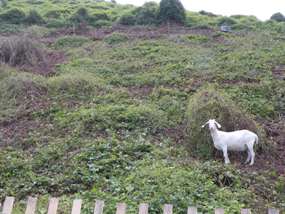 Fort Wadsworth, Staten Island, is home to fifteen young goats with a purpose: eat the poison ivy! The itchy plants have become overgrown in the park, and a new fuel-efficient, environmentally friendly trend of releasing goats to eat the pesky plants has taken effect at the former United States military installation for the fifth consecutive summer.
Maintained by the National Park Service and part of the Staten Island unit of the Gateway National Recreation Area, Fort Wadsworth is one of the oldest military installations in the country. On 226 acres of land on the northeastern shore of Staten Island, New York, visitors are exposed to rich American history as well as stunning views of the New York Harbor.
The young goats, immune to the ill-effects of poison ivy, spent their summer as a sustainable resource to the park, providing services that normally are assigned to employees – grooming the fields, eating grass and weeds, trimming trees, and eating invasive plant species that are harmful (or, at least, uncomfortable) to humans: poison ivy. The goats are able to get into nooks and crevasses and up steep inclines that would be very difficult for a man with machinery to reach.
Other parks, including Freshkills Park, Governors Island, and Seaside Park in New Jersey have adopted this cute and affordable method of removing the unwanted plants from their grounds.
Photo Credit: NPS.gov