| | | |
| --- | --- | --- |
| | Winter Fun in the Parks | February 2010 |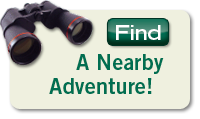 Big Bend: An Emerald Isle in a Red Sea
Located in southwest Texas along the border with Mexico, Big Bend National Park is one of the most remote and least visited National Parks in the U.S. The Rio Grande forms a 1,000-mile border between the U.S. and Mexico, with 244 miles being administered by the park.
Win $50,000 For Your Outdoor Nonprofit
Don't miss your chance to win a $50,000 grant from the Redwood Creek Greater Outdoors Project contest! You have until February 28 to enter to win a financial grant to use towards an environmental project that endeavors to preserve, protect and provide access to the great American outdoors.
Presidents Day in the Parks Roundup
With an extended weekend fast approaching, there's still plenty of time to plan a last minute adventure if you don't have plans. National Parks rarely close and are great vacation destinations year-round. Check out our roundup of events taking place across the country Feb. 13-15 in recognition of Presidents Day.
What are the best parks to see on a cross-country trip? Help a fellow parkgoer here!
"This looks like the very edge of the world... [a] wild country, completely untamed by man, but a good place to come to get your troubles in perspective."
— Lady Bird Johnson, on her visit to Big Bend