| | | |
| --- | --- | --- |
| | Summer Getaways | July 2010 |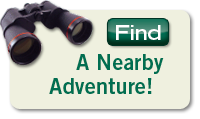 The Oh, Ranger! Story Tour: An Update From the Road
The Oh, Ranger! Story Tour is traveling cross-country to collect stories about our national parks, giving millions of park-lovers the chance to share their favorite park memories. Up next: Yosemite, Grand Tetons, and Yellowstone before heading eastward.
More Ultimate Roadtrip Destinations
Last month we brought you news of an exciting new partnership with Firestone Tires, bringing you closer to some of our favorite national park destinations and roadtrips. We continue to update the destinations, so stop by to check out the newest additions. You can also win trip to your ultimate destination!
What's your fave summer getaway? Post it here; lucky winner gets hiking poles!