| | | |
| --- | --- | --- |
| | Welcome Summer! | June 2010 |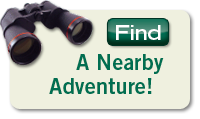 The Appalachian Trail: A Path to Adventures Large and Small
The Appalachian Trail is the nation's longest marked footpath, traveling 2,178 miles from Maine to Georgia. It provides the perfect opportunity for day trips or short travel through national parks and forests, or ample challenges and rewards for the hearty thru-hiker.
The Oh, Ranger! Story Tour update: Making our way out West
The Oh, Ranger! Story Tour is traveling across the country to collect stories about our national parks, giving millions of park-lovers the opportunity to share their favorite park adventures and experiences. Find out where we're headed next!
Top 10 "Destinations"
We are proud to partner with Firestone, a true American icon, to bring you closer to some of our favorite national park destinations. This new spotlight series will be updated throughout the summer and we hope it will inspire you to hit the road! You can also win a trip!
Take our Appalachian Trail quiz here. Winner gets FREE hiking poles!