| | | |
| --- | --- | --- |
| | Countdown to Summer | May 2010 |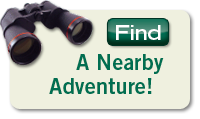 Cuyahoga Valley: An urban oasis in Ohio
Cuyahoga Valley National Park represents a transformation from urban area to recreational area, where visitors can experience history along the Towpath of the old Ohio & Erie Canal, take a ride on the Cuyahoga Valley Scenic Railroad or hike the Buckeye loop trail.
National Park Free Admission June 5-6
The NPS is continuing their extremely popular free admission program, so mark your calendars. On June 5th and June 6th, more than 100 parks will waive their entrance fees, so you'll have no excuse not to go visit.
Canon Photography in the Parks program heads to Yosemite
Join American Park Network and Canon at Yosemite National Park to learn how to take better digital photographs at the FREE Photography in the Parks workshops. Future stops include the Grand Canyon, Yellowstone, the Grand Tetons, Acadia and Bar Harbor.
Top 10 Parks of the Midwest
The Midwest boasts some of the most beautiful lakeshores, prairies and rivers in the country. From the Boundary Waters, one of the premier paddling destinations in the world, to the clearest and most beautiful spring-fed rivers that make up the Ozark National Scenic Riverways, the Midwest is home to magnificent scenery.
The best sights to see at Yosemite? Have tips? Share them here!